Biography Reference Center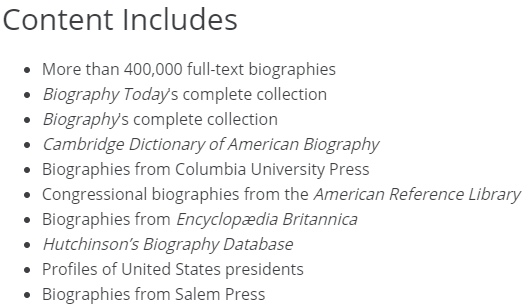 Biography Reference Center provides thousands of reliable full-text biographies, including the complete full text of Biography Today and Biography, plus narrative biographies not available in other databases. In addition to keyword search, users can locate biographies by subject occupation, nationality, activity, gender, lifespan and more.
Superior Coverage and Search
This resource provides superior coverage for several of the most popular and heavily-researched biographies and genres, including those contained within Biography Today and Biography (both dating back to the first issue published).
In addition to keyword searching, Biography Reference Center users can locate biographies of interest by browsing key categories, including occupation, nationality, publication and more than 30 genre categories including actors, artists, athletes, authors, current world leaders, explorers, scientists and many others.
Results can also be limited by reading level indicators (Lexiles) and source types that include concise and detailed biographies, interviews, obituaries and related articles. Users can also limit results according to any combination of subject occupation, activity, gender, birth place, birthday, lifespan, nationality and more.
Learn more about the Biography Reference Center by clicking on the images or by completing the Scavenger Hunt supplied by EBSCO